Hey. FYI, my Patron supporters got this podcast a few days early. Support me on Patron to do the same and get audio versions of other articles.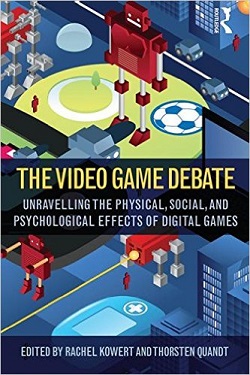 There are a lot of debates and discussions going on about video games, both in the mainstream press and academia. But the two don't always overlap as much as they should. What's going on in academia isn't always packaged and communicated in a way that the rest of the world can make use of it. But what if someone wrote a book that summarized the current state of research on topics like video game violence, games for learning, the use of games as social spaces, gaming addiction, using games to promote healthy habits, and other topics of similar importance? Wouldn't that be nice?
In this episode I talk to Rachel Kowert and Throsten Quandt, who have helped create and edit just that book. It's called The Video Game Debate: Unravelling the Physical, Social, and Psychological Effects of Video Games. In it they have collected chapters from many of the leading experts on the psychology of video games. Curious? Listen to the podcast to learn more, as well as some general discussion about how psychology and other social scientists are examining video games these days.
To get the podcasts delivered straight to your device of choice, search for "Psychology of Games" or use one of these links:
Audio Credits:
Audio Clips: