When I started this blog over three years ago, I did it because the topic interested me and I thought it would be fun. I wasn't sure what to expect in terms of reception, but it was actually pretty good! People found the site, passed links to it around, and editors at a few magazines and websites thought my writing was worth paying for.
So, I've been thinking…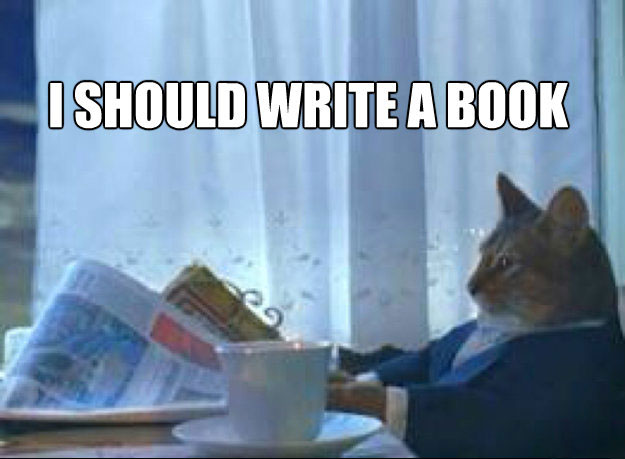 And so I shall. I've spent the last few weeks writing a big, formal proposal for a book about the psychology of video games –about 10,000 words1 describing the idea, why I'm the person to write the book, the target audience, the competition, how I'll market and promote it, and detailed descriptions of all chapters. I've also got a complete sample chapter that looks at what anonymity and freedom from consequences do to us while playing games online. If you're a literary agent, I could send these to you IN UNDER FOUR SECONDS were you to contact me.
The book will have the same tone as this website,2 but I'm going to really dig in and research the topics more and use the available space to explore them. Topics will include anonymity, avatars, cheating, fanboys, nostalgia, competition, quest completion, loot grinding, immersion, violence, digital sales, subscriptions, microtransactions, and more. Readers will take away an understanding of how the psychology behind video games affects them, and what they can do about it to make games and gaming communities better. Designers and community managers will also learn how to use these lessons to do the same.
I'm trying to find a literary agent to represent me and sell the proposal to a publisher. The main thing that both agents and publishers look for is what's called an author's platform. It's essentially an author's built-in audience and network of contacts that can be used to market and spread the word about a book.
You're part of my platform,3 and you can help! Here's what you can do to make the book deal happen:
Follow me on Twitter, Facebook, and RSS. Those numbers are super important to show I have an audience.
Share a link with someone. Tweet, share on Facebook, or whatever. Don't spam people, but if you know of someone who might like this site, send them a link to it.
Comment on the articles if you have thoughts. An active community is an attractive community, and you look fabulous.
Let me know in the comments section here what topics you'd like to read about in a book like this. I'm curious as to whether I've covered the right bases in the proposal.
That covers most of you, but there may be a few special cases:
So there you have it. It's going to be a long process and I'm going to need your help to succeed, but it's going to be fun!
P.S., Don't worry. Regularly updating this site is also key to building my platform, so you'll keep seeing new stuff here for free. In fact, it may happen more often as I come across cool stuff in my research that I can't find a place for in the book.