One of the first articles I wrote for this site was about how to use loss aversion to get people to buy Xbox Live Arcade or Playstation Network games. The idea was that during the demo for the game you award people achievements or trophies, then threaten to take them away unless they buy the full game. I speculated that this would result in increased sales because of how people hate to lose something once they have it and simply owning something can inflate how much we value it.
Well, the folks at Microsoft and/or Ruffian games seem to be thinking along the same lines 1 because upon downloading and firing up last week's Crackdown 2 demo I saw this screen: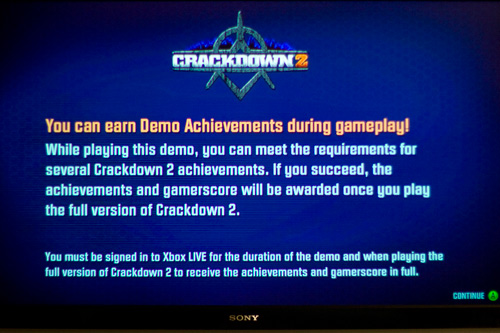 For the vision impaired among you, the message conveyed is that the demo allows you to earn achievements that will automagically transfer over when you buy and play the full game. Sure enough, I futzed around with the demo and earned an achievement. Upon exiting, I got this message: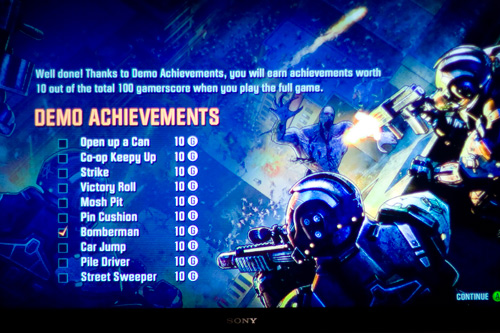 I'd be fascinated to see what this does to Crackdown 2's sales numbers and how many people actually end up shuffling achievements over from the demo. It's a great idea regardless, but it's worth noting that it's not quite what I had in mind in my earlier article. What I thought would be most effective was actually giving the person the achievement and associated gamer points so that they show up everywhere you normally see them, then taking them away if the person exited the demo without buying. What Ruffian did was just say "you earned these in the demo, we'll give them to you in the game, too." It's not quite the same thing, because it doesn't trigger the idea that you're going to lose something unless you act.
Maybe there are logistical reasons why this can't be done in a demo or maybe it would be in violation of some "Don't be too awesome" rule in Microsoft's certification process. I don't know. But I do think that Ruffian could have gotten almost there if they had simply changed the wording they used on the screen above to something like this:
Well done! You have unlocked the following achievements and earned the gamerscore points that go with them. They are waiting to be added to your account once you purchase the full version of Crackdown 2. If you don't, these achievements will be lost forever. Don't let that happen, Agent!
I bet that would have worked out a lot better, given how it casts the achievements as a potential loss rather than a gain, and we react much more strongly to losses than gains. What about you? Are you more likely to buy the game because you'll get to keep your achievements?
It's also worth noting that the one thing I really hated about the demo was the timer that forced you to restart (with a fresh game and a wimpy Agent) after just 30 minutes of play. Again, I wrote before about how people –especially Westerners– hate the idea of being on a meter and experiencing their service or product as a series of little losses. Of course, the Crackdown 2 demo doesn't perfectly fit the bill here since you're not paying for it, but the human brain isn't always rational and I bet that my distaste for the timer is partially due to the flat rate bias.
Footnotes:

1
. If not reading this site –HI GUYS! SEND ME CRACKDOWN 2 SCHWAG, PLZ!